you were probably expecting a humpday hero post today. sorry to disappoint. i did get nominations for a few bloggers, but i'm waiting to get their info for their posts. (FYI - you can still send me your nominations, even if you've nominated someone before. there are a lot of inspiring bloggers out there who deserve recognition!)
so, in lieu of giving the humpday hero award out today, i'm going to give some recognition to an incredible blogger who is doing something wonderful.
i recently joined a couple of mommy blogs' directories, which is where i met ashley.

ashley is a mommy blogger, but she is so much more than that. she is an IF survivor! her blog,
flats to flip flops
, is all about fashion... and family, but her journey to build that family was difficult and, at times, painful, just like so many of our journeys. IVF was her answer and she now has 2 beautiful children.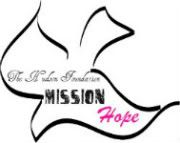 the amazing thing about ashley is that she is taking her experiences with IF and turning them into something positive. she and her husband, in an effort to pay it forward, have started a charity called
the hudson foundation
, with a mission of "giving
hope
to couples struggling with infertility." they offer the mission hope grant, a grant given to couples to help them to grow their family through IVF.
i am so inspired by their efforts, by the fact that they aren't just talking about helping people, they're taking action. they're actually doing it! but that doesn't mean that we can't do something, too. i'm sure this is a cause that we can all get behind, so i urge you to step up and help. it doesn't take much. you could simply take a few moments to
click here
and donate. if we all chip in, even if it's just a little bit, we could help families to grow and lives to change.